Dual set of a double headed roller and a gua sha tool made of ming jade that helps to boost blood circulation, reduces undereye swelling, and helps your skin to absorb products better. All packed in a beautiful gift box. This jade facial roller & gua sha stone are made of 100% Original & Premium quality real natural jade stone, without any chemicals or irritants.

Benefits of Jade Roller & Gua Sha tool
Improves blood circulation in the face: Using a face roller can stimulate blood flow to the face, which can make your skin look brighter and feel firmer.

Decreases puffiness: Rolling may also decrease puffiness (like hard-to-handle under eye bags) by stimulating lymphatic drainage.

Cools and soothes your skin: a naturally cold stone like jade will cool the skin on contact. This can quickly de-puff your skin and tighten pores.

Distributes skincare product: Rollers are typically used with an oil or moisturizer to help the tool glide across your skin. This process can deliver product deeper into your skin.

Face conturing: The roller can be used to drain fluid from the face, which can help to contour your face temporarily. The best way to use the tool for draining and contouring is to roll up at an angle and then push the roller downward by the ear. The process helps direct excess fluid to the lymph nodes.

Toxins can be flushed from the body by using a roller: Any activity that stimulates lymphatic drainage including massage or facial rolling, can be detoxifying for the body.
• Promotes blood circulation
• Reduces dark circles
• Relaxes muscles
• Minimizes facial wrinkles


How to use
Apply a facial oil, serum, or moisturizer with lots of slip. If you don't have lubrication, the tool can pull or tug the skin, which may actually contribute to wrinkles.

Using gentle pressure, roll from the centre of the face, outwards. Repeat on both sides of your face. Use the larger roller for your face and neck and the small roller for the delicate areas around your eyes and nose. You can use your roller every day for 5-10 mins

With the Gua Sha start scraping sweep your chin, jawline, mouth area and cheeks around to the eye area and the forehead. Then with the big flush, move along to the neck area. Repeat 4 to 6 times. Use your Gua Sha twice a week for 15-20 mins.
Shipping & Returns

This item qualifies for Free Shipping to the United Kingdom, All orders are processed within 24hours and shipped out within 2-4 business days (processing time).

USA  and Canada– This item arrive 12-18 business days

EU & UK – This item arrive in 7- 10  business days

Australia, and New Zealand – This item arrive in 10-18 business days

Norway, Sweden, Finland, Denmark and Netherlands – This item arrive in 10-20 business days

Delivery times are average and approximate. May take longer (or shorter) time, depending on customs clearance process and available flights.
Share
View full details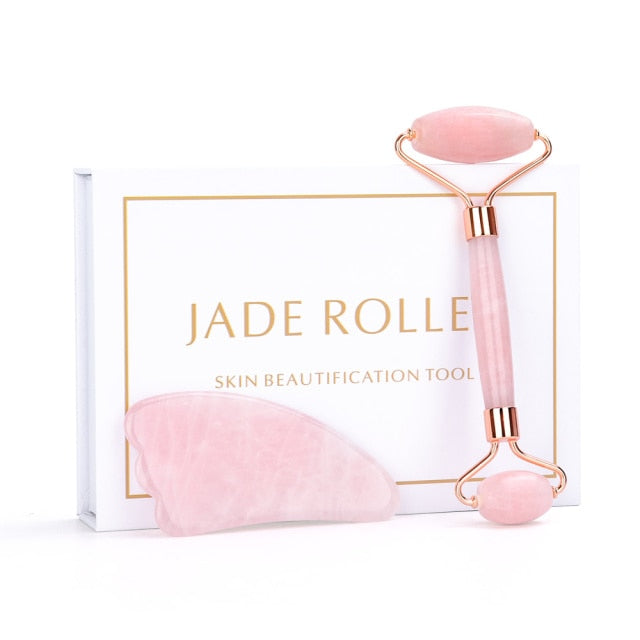 Hassle-Free Exchanges

Refund with 14 days once Item has been returned and received.